5 Industries Facing Disruption In 2014
Every new year sees a slew of top 5 and top 10 lists looking backwards. Here's one that looks forward, predicting the five biggest disruptive technologies and threatened industries for 2014.
Making projections like these is really hard. Brilliant pundit Larry Downes titles his new book (co-authored with Paul Nunes) Big Bang Disruption: Strategy In an Age of Devastating Innovation. Its thesis is that with the advent of digital technology, entire product lines — indeed whole markets — can be rapidly obliterated as customers defect en masse and flock to a product that is better, cheaper, quicker, smaller, more personalized and convenient all at once.
Since adoption is increasingly all-at-once or never, saturation is reached much sooner in the life of a successful new product. So even those who launch these "Big Bang Disruptors" — new products and services that enter the market better and cheaper than established products seemingly overnight — need to prepare to scale down just as quickly as they scaled up, ready with their next disruptor (or to exit the market and take their assets to another industry).
Disruptors can come out of nowhere and happen so quickly and on such a large scale that it is hard to predict or defend against. "Sustainable advantage" is a concept alien to today's technology markets. The reputation of the enterprise, aggregated customer bases, low-cost supply chains, access to capital and the like — all things that once gave an edge to incumbents — largely no longer exist or are equally available to far smaller upstarts. That's extremely unsettling for business leaders because their function is no longer managing the present but inventing the future…all the time.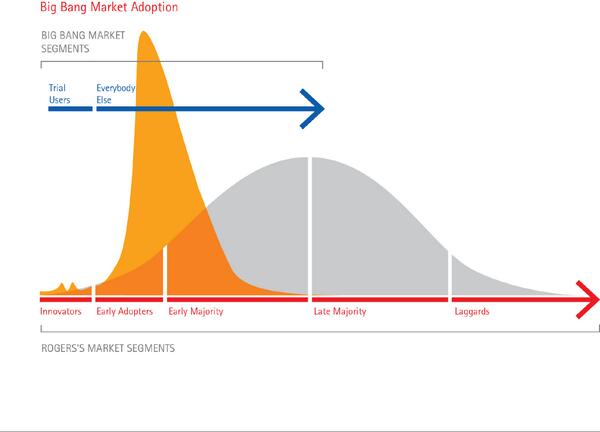 I certainly have no crystal ball. Yet just as makers of stand-alone vehicle GPS navigation devices were overwhelmed in 2013, suddenly and seemingly out of nowhere, by smartphone maps-app software, e.g., Google Maps, etc., so too do these iconic industries and services face a very real and immediate threat of big bang disruption this year.
At DisCo we all know intuitively that Downes is right: disruption is getting bigger and faster and more baked into today's business world. Whether these are actually the top five disruptions of 2014 is something only time will tell. But if I missed any (which is surely the case) let the comments flow!